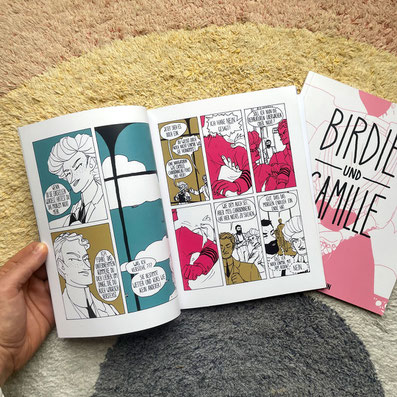 BIRDIE AND CAMILLE
2019 
Is a 60 pages comic taking place in a fictional 1905 setting, where travel by airship is well established.
It follows the Airship-Captain Birdie and her girlfriend Camille, who hide their relationship especially from Birdie's brother Lawrence. While Birdie has to escape her brother's attempts to make her a well accepted member of society, Camille has her own secrets connected to her mysterious past.
BIRDIE UND CAMILLE
2019
Ist ein 60 Seiten Comic der in einem fiktionalen 1905 spielt, in welchem Reisen via Luftschiff an der Tagesordnung stehen. 
Die Geschichte folgt der Luftschiffkapitänin Birdie und ihrer Freundin Camille, die ihre Beziehung vor allem vor Birdies Bruder Lawrence geheim halten. Während Birdie mit den Versuchen ihres Bruders kämpft, aus ihr eine gesellschaftlich anerkannte Dame zu machen, versteckt Camille ihre eigenen Geheimnisse um ihre mysteriöse Vergangenheit.